Simple (Blank) Invoice Template
The Simple Invoice Template is a document that is used to charge a customer for purchased services and products, without over-complicating the document with fields that are overly specific to certain industries. The template is designed to give the issuer complete control on the appearance and structure of the invoice, allowing it to contain fields unique to the issuing company.
How to write in Adobe PDF and Word:
Step 1 – Download
Download the Simple Invoice in Adobe PDF or Microsoft Word (.docx).
Step 2 – Company Contact Details
Enter the following at the top of the invoice:
Name of the Company
Full Address (Street, City, State, and ZIP)
Email
Phone Number
Website

Step 3 – Client Information
Below the horizontal line, enter the client's contact information. This includes:
Client Name
Client's Address
Phone Number
Email Address
Date (of Issue)

Step 4 – Products Sold
In the Products table, enter the items that the customer purchased. Enter a short Description of each product type, the Quantity of products purchased, the Unit Cost of each product, and the Amount per type of product. Multiply the Quantity by the Unit Cost to calculate the Amount. Sum the Amount column to calculate the Product Total.

Step 5 – Services Rendered
Repeat the same process as was done in the previous step. Enter a Description of the service completed for the client, the number of Hours dedicated to each task, the hourly rate ($ / Hr) for each job, followed by the Amount (Hours X [$ / Hr]). Sum the Amount column and enter the result into the Service Total cell. Sum the Product Total and Service Total fields to find the TOTAL invoice amount.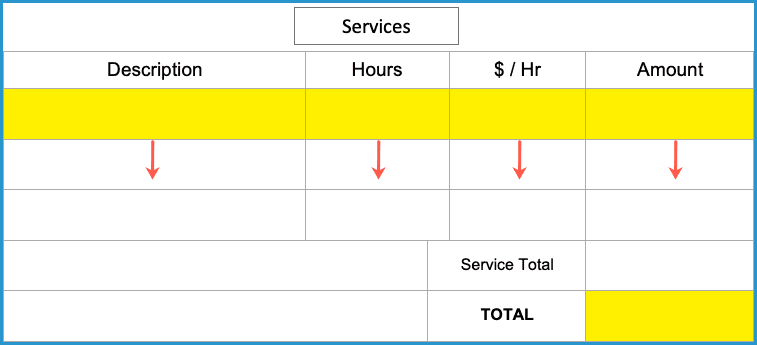 Step 6 – Notes / Comments
Enter any Notes or Special Instructions for the billed customer. Examples include forms of payment that are accepted, thank-you's, and the number of days the client has to pay the invoice.